AWARDS
Depending when and which YAGR ship you served on
here are the awards that you can apply for.

Armed Forces Expeditionary Medal. This medal was established on Dec. 4, 1961, to be awarded to members of the United States armed forces who, after July 1, 1958, have participated in a United States military operation and encountered foreign armed opposition, or were in danger of hostile action by foreign armed forces.
The National Defense Service Medal is awarded to members of the United States Armed Forces during qualifying periods of national emergency. Awarded for. Military service during periods of national emergency or any other periods designated by the Secretary of Defense. Campaign(s) Korean War, Vietnam War, Persian Gulf War, Global War on Terrorism.
The Navy Expeditionary Medal (NEM) is a decoration presented by the United States Navy to recognize members who have landed on foreign shores and participated in operations against enemy forces. Individuals also may be eligible who served in a mission that is considered by an authority to warrant this award.
(If you are having trouble bringing up the link below hold the shift key down on the keyboard while clicking on the Archives.gov link)
To apply for service records or medals go to Archives.gov
(Scan down to see eligibility)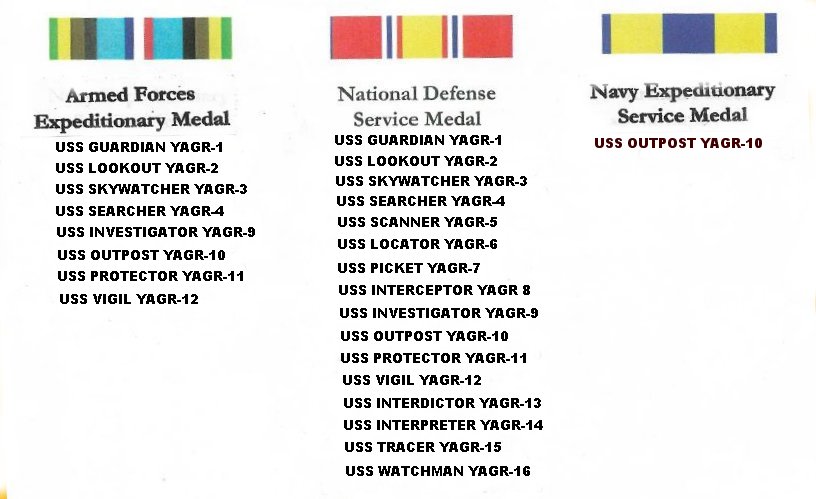 Armed Forces Expeditionary Medal
(you are eligible if you were on board during the dates listed)
USS GUARDIAN YAGR-1
June 9, 1962 to June 10, 1962
July 18, 1962 to July 19, 1962
USS LOOKOUT YAGR-2
June 30, 1962 to July 22, 1962
Aug. 8, 1962
USS SKYWATCHER YAGR-3
May 15, 1962 to June 11, 1962
June 26, 1962 to July 27, 1962
Sept. 23, 1962 to Oct. 7, 1962
Oct. 13, 1962 to Oct. 14, 1962
USS SEARCHER YAGR-4
April 20, 1962 to May 16, 1962
May 27, 1962 to May 28, 1962
USS INVESTIGATOR YAGR-9
Aug. 31, 1962 to Sept. 28, 1962
Oct. 13, 1962 to Oct. 14, 1962
USS OUTPOST YAGR-10
Aug. 11, 1962 to Sept. 2, 1962
Sept. 14, 1962 to Sept. 20, 1962
Oct. 1, 1962 to Oct. 15, 1962
Oct. 24, 1962 to Nov. 3, 1962
July 21, 1962 to Oct. 23, 1962
USS PROTECTOR AGR-11
April 11, 1962 to April 22, 1962
May 8, 1962 to May 9, 1962
USS VIGIL AGR-12
July 21, 1962 to Aug, 13, 1962
Aug. 29, 1962 to Aug. 30, 1962

National Defense Service Medal
(you are eligible if you were on board during the dates listed)
ALL PERSONNEL
June 27, 1950 to July 27, 1954
Jan. 1, 1962 to Aug. 14, 1970

Navy Expeditionary Service Medal
(you are eligible if you were on board during the dates listed)
USS OUTPOST YAGR-10
Oct. 29, 1962 to Dec. 15, 1962