SHIPS
CLICK HERE TO GO TO SHIP'S PICTURE GALLERY
The YAGR-DIVISION 21 patch represents a division of radar picket ships stationed on the East coast during the Cold War. The other two represented Radar Picket Squadrons 1 and 2.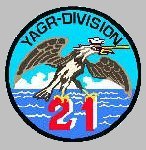 Click on the patch to view YAGR DIVISION 21 Organization

During the Cold War it was necessary to detect Russian bombers heading for the USA as soon as possible. A system was set up to do this and consisted primarily of radar stations stretched across the US and Canada called the DEW (Distance Early Warning ) Line. However there were gaps, one of which was the seaward approach. To fill this seaward gap radar picket ships were built and deployed on station hundreds of miles off both the East and West coasts. These were converted WWII Liberty Ships initially called YAGRS, later shortened to AGR. There were 16 ships in all, 8 on each coast. As the ships came online they were formed into Divisions and Squadrons. The East coast division was YAGR 21 and consisted of the first four ships, USS GUARDIAN (AGR-1), USS Lookout (AGR-2), USS Skywatcher (AGR-3), USS Searcher (AGR-4). The West coast was Division 11 but did not have a logo/patch design to our knowledge and had four ships (AGRs 5,6,7, & 8) in it. Each ship had its own logo/patch design but some ships changed their patch design as organizational structure changed or as the CO of the ship dictated a change. Squadron 2 was on the East coast and Squadron 1 was on the West coast and each had an individual squadron patch. The ships were in commission and made picket patrols from 1955 to 1965 when over the horizon radar made them obsolete.
by Lee Doyel


| | | | | | | |
| --- | --- | --- | --- | --- | --- | --- |
| AGR | NAME | DISPL. | LENGTH | WIDTH | DRAFT | SPEED K |
| 1 | Guardian | 10,160 (fl) | 441' 6" | 56' 11" | 24' | 11 |
| 2 | Lookout | 8, 760 (lt) | 441' | 57' | 27' | 12.5 |
| 3 | Skywatcher | 7,360 (lt) | 441' | 57' | 27' | 11 |
| 4 | Searcher | 7,360 (lt) | 441' 6" | 56' 11" | 27" | 11 |
| 5 | Scanner | 8,760 (lt) | 441' 6" | 56' 11" | 27' | 11 |
| 6 | Locator | 8,760 (lt) | 441' | 47' | 27' | 12.5 |
| 7 | Picket | 10,590 (fl) | 441' 6" | 56' 11" | 27' | 11 |
| 8 | Interceptor | 10,760 (fl) | 441' 6" | 56' 11" | 24' | 11 |
| 9 | Investigator | 10,760 (fl) | 441' 6" | 56' 11" | 24' | 11 |
| 10 | Outpost | 11,365 (fl) | 441' | 59' | 22' | 11 |
| 11 | Protector | 10,760 (fl) | 441' 6" | 56' 11" | 24' | 11 |
| 12 | Vigil | 10,760 (fl) | 441' 6" | 57' | 24' | 12.5 |
| 13 | Interdictor | 10,760 (fl) | 441' 6" | 56' 11" | 24' | 11 |
| 14 | Interpreter | 10,760 (fl) | 441' 6" | 56' 11" | 24' | 11 |
| 15 | Tracer | 10,710 (fl) | 441' 6" | 57' 1/4" | 22' | 11 |
| 16 | Watchman | 10,760 (fl) | 441' 6" | 57' | 24' | 12.5 |
| | |
| --- | --- |
| BOILERS | 2 |
| PRESSURE | 220 PSI |
| TEMPERATURE | 450 |
| ENGINE | Triple Expansion steam reciprocating |
| SHAFT HORSEPOWER | 2,500 |
| SHAFT RPM | 66 |
| SINGLE PROPELLER | 4 blade, 18' 6" dia. |
| FUEL OIL (gallons) | 443,646.00 |
| DIESEL FUEL (gallons) | 68,267.00 |
| FRESH WATER (gallons) | 15,082.00 |
| BALLAST (fresh water) (gallons) | 1,326,657.00 |
| GENERATORS | 2 |
| COMPLEMENT | officers: 13 |
| | enlisted : 138 |
| ARMAMMENT (2) | 3"50 slow fireing guns |
| | |
| | |